Rank #1:
Ep 117 - Smoked Fish Dip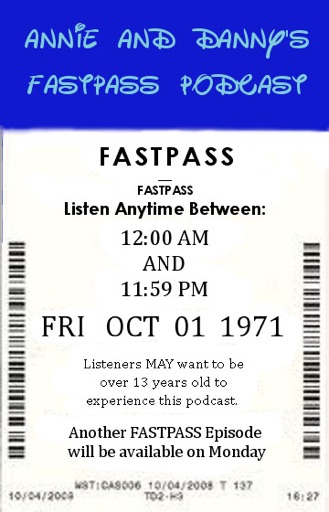 Annie and Dan return again on this Indigenous People's Day to discuss Annie's screening of the cinematic classic 'Spooky Buddies', the Miami Dolphins coach doing cocaine, and Summer blockbusters with real snowy or cold settings (prompted by Annie's re-watch of the Beauty and the Beast live action film from this Spring), how Annie only has 3 mom stories now, Dan's impression of Tom Cruise's new movie "American Made", and how they've slowly been world building around the memes of the podcast this whole time.  The duo spend the last half of the show talking about the planned portion of Dan's itinerary for his upcoming Disney trip. They'll be trying some new restaurants (Morimoto Asia, Art Smith's Homecoming, Jungle Skipper), and some new rides (Flight of Passage, Frozen Ever After), and enjoying the Epcot Food and Wine Festival.
Rank #2:
Ep 111 - Planet of the Border Collies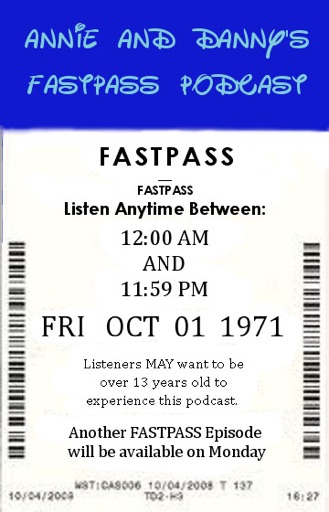 Annie and Dan return and discuss all kinds of non-Disney topics this week, including Dan enjoying feeling smug, fooling his dogs, and more of Dan's break-down of Harry Potter. They also talk about Annie's dislike for Newsies, and her trip to the Dentist. The Harry Potter discussion this time focuses mostly on Wizard Bachelors and the insane behavior of Dolores Umbridge. They spend a few minutes talking about the movie Logan Lucky, which they both saw this week. For those of you who want to avoid spoilers, that's minute 42:12 to minute 52:00.  Lastly they talk about Dan's issues with the current Fastpass Plus bias toward the East Coast, and how unfair it is for him and his white privilege that he had to wake up early.
Rank #3:
Ep 107 - Cosmic Chicken Meat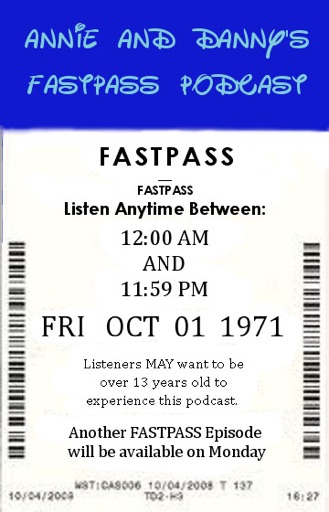 Annie and Dan return and talk about Dan's Jury Duty and Annie's mice friends before they dive into the real deal Disney talk. First Annie goes on a little bit of a socialist rant against Sofia the First, a kids show about a princess.  Once that's completed, they talk about all of the announcements from the recent D23 convention. Some of which include the new Star Wars Land (Star Wars Galaxy's Edge), the new Tron attraction coming to Magic Kingdom, the Toy Story Land, the Star Wars Hotel, new DVC properties, Mickey and Minnie's Runaway Railway, and a whole lot more. Lastly they start the conversation toward coming up with a concrete plan for an official Podcast Challenge/Scavenger Hunt. The Podcast is sponsored by "Below Par" by Lane Cohen
Rank #4:
Ep 106 - Testosteroni: The San Francisco Treat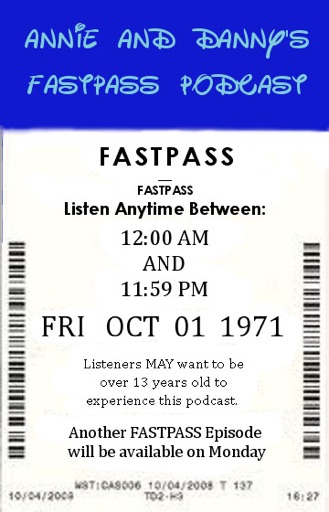 Annie and Dan return and discuss the Disney news of the week, which includes the end of the Siemens sponsorship, some wild speculation on the future rides of Epcot, a really expensive Disneyland map being sold, and announced changes to the Pirates of the Caribbean ride. Then they go "off Property" to talk a little about Harry Potter. Lastly, they spend the final few minutes of the show discussing the new Spider-Man movie. Spoilers abound in this section. Oh! And they have a sponsor in the book "Below Par" by Lane Cohen.
Rank #5:
Ep 105 - No One Offered Me a Scooter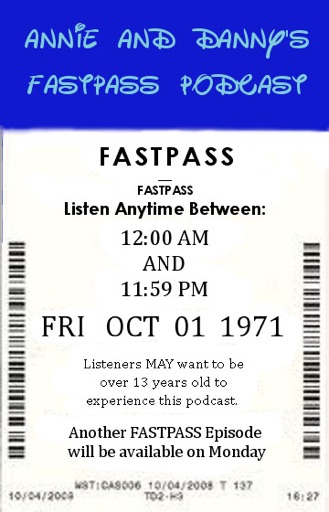 Annie and Dan return to actual Disney-related content, by going through the recent Disney news items. They discuss the possible property values at Walt Disney World, which leads into the revelation that Dan would like to be a despot. Among other things, they talk about the five new dining "concepts" coming at Disney Springs, which include something from Wolfgang Puck, something from Jose Andres, and something that Dan described as a 'hipster masturbation fantasy'. Annie brings back the "One Star Reviews" segment, which includes a review where a lady really hates this one particular rock.  Lastly, they both watched Pixar's Cars 3, and they go into a pretty detailed, spoiler-laden review of the flick.
Rank #6:
Ep 104 - Prolonged Fart Noise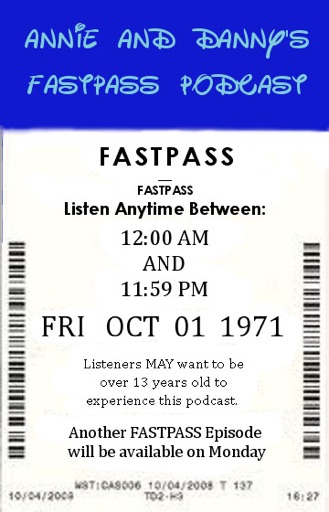 Annie and Dan record without a plan for the 2nd week in a row, and it's unclear if it's laziness, or just more fun. We'll see if the pattern continues moving forward. For this ep, they talk about the movie going experience, and go very deep on Tom Cruise and The Mummy reboot, as well as the birth of "Dark Universe" or whatever the heck that's supposed to be. They talk a little about some upcoming Disney movies, and then briefly talk about the possible tours he can take on his October visit to Walt Disney World, and the under-discussed Disney World miniature golf courses.
Rank #7:
Ep 103 - Annie and Danny Go Commando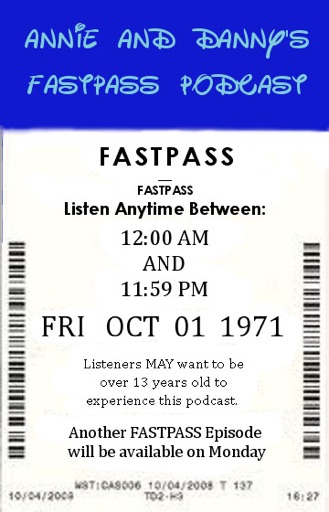 Annie and Dan prepare even less than usual this week, and completely wing an episode with no pre-planning. They still manage to talk about Pirates of the Caribbean, Guardians of the Galaxy, and the new Pandora area at Animal Kingdom. Dan asks Annie for her most quotable Disney movie, the minutia of Annie's day, Captain Phillips memes, popular current trailers, they have a game of 20 Question about what movie Annie bought out of the discount bin at Walgreens...but mostly they talk about Annie's weird burp noises.
Rank #8:
Ep 102 - Lube Tangerine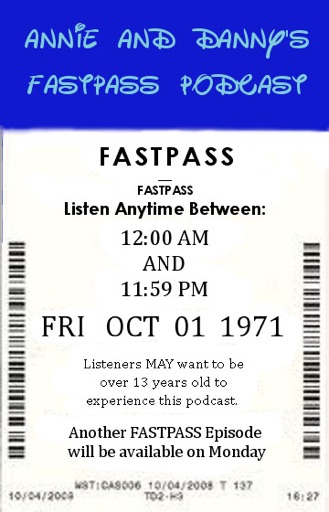 Before diving into the Disney news, Annie and Dan discuss a very bizarre incident Dan experienced during his lunch break. Then they discuss the Walt Disney World Hall of Presidents, and what should be done with it. They discuss Zootopia being the subject of a copyright lawsuit. They talk about how Lularoe is taking over the world, and how Disney will be live-streaming the dedication of Pandoraland on their blog. Once the news is done, Dan and Annie celebrate "Graduation Season" by handing out some Disney Hero Superlatives such as "Best Smile" and "Best Dressed". Or maybe entirely different ones. Check it out!
Rank #9:
Ep 101 - Clippies of his Nippies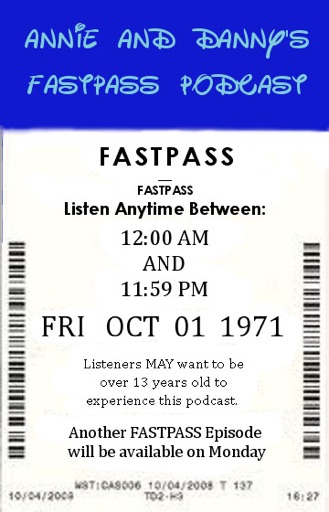 Annie and Dan return and discuss the additional Disney Cruise Line locations and routes, the utterly pointless observation deck at Tomorrowland for the 'occasional fireworks', and the length and quality of the Epcot Food and Wine Festival. Then Dan wastes everyone's time by going through a pointless list from MiceChat. After that nonsense, they talk about Beauty and the Beast, finally, Johnny Depp's mounting insanity, and the early word on Pandora. They finish up with some listener questions.
Rank #10:
Ep 99.2 - Fast Pop Finger-Bang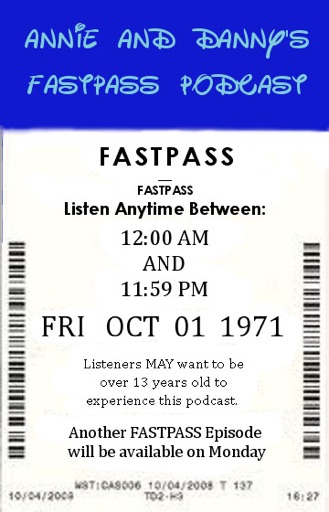 Annie and Dan return and discuss the Disney news of the day, including the relative merits of the Disney Dining Plan, whether 'free' really means 'free', the Splash Mountain refurb this fall, Epcot's refillable wine glass, the expansion of Club 33, and the possible added scene from The Last Jedi into Star Tours. Then they talk about the rumors surrounding the Great Movie Ride... maybe soon to become the Great Mickey Ride? Lastly they discuss Dan's exploits in Disneyland this past weekend.